Minded Motion Level-Up! platform
Within the Minded Motion Level-Up! platform there is a lot to do. You can post videos of your coolest tricks on the social feed. Like, share and comment on the many other freerunners and experience the best freerunning community. Minded Motion's teachers are also present on the platform to unlock your tricks and give tips. When you have shared your tricks, the unlockers will watch your video within 48 hours and award the tricks.

Become a pro!
The Level Up! platform works on the basis of levels. Namely level 1, 2, 3, 4, 5 and pro. The more tricks you unlock, the higher your level. If you have unlocked 10 tricks you become level 1 and at 150 tricks you are pro. Then you can also unlock tricks from other community members. Every time you go up a level you will receive a diploma in your mailbox. Minded Motion members can show these to their freerun coach. As a reward you get a free Level-Up! band of your level. All you have to do is practice, film and upload tricks on the Level-Up! platform!

Level Up! your Experience
In addition to the levels, you can also collect Experience points (XP). You can do this by being active on the platform. By posting videos, unlocking tricks, liking other videos, commenting, and sharing you earn more and more XP. The harder your tricks are, the more XP you get for them. These Experience points determine your place on the leaderboard. The more XP you have, the higher you will be in the ranking. Can you get the best spot?
Badges
We're not done yet, because in addition to levels and Experience points you can also collect badges. By completing all kinds of challenges you can always unlock a new badge. You get a badge for each level, but also when you unlock 10 flip tricks, do a cool run on the street and much more. All these badges will appear on your profile. This way everyone can see which challenges you have already achieved.
Unlock tricks!
Curious about which tricks you can unlock? Check it out in the images below!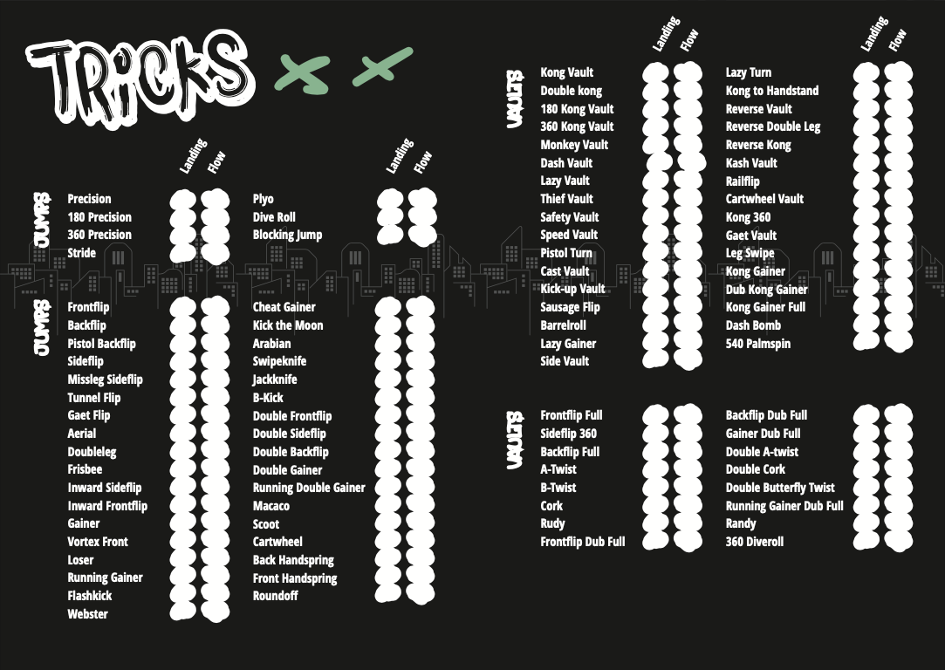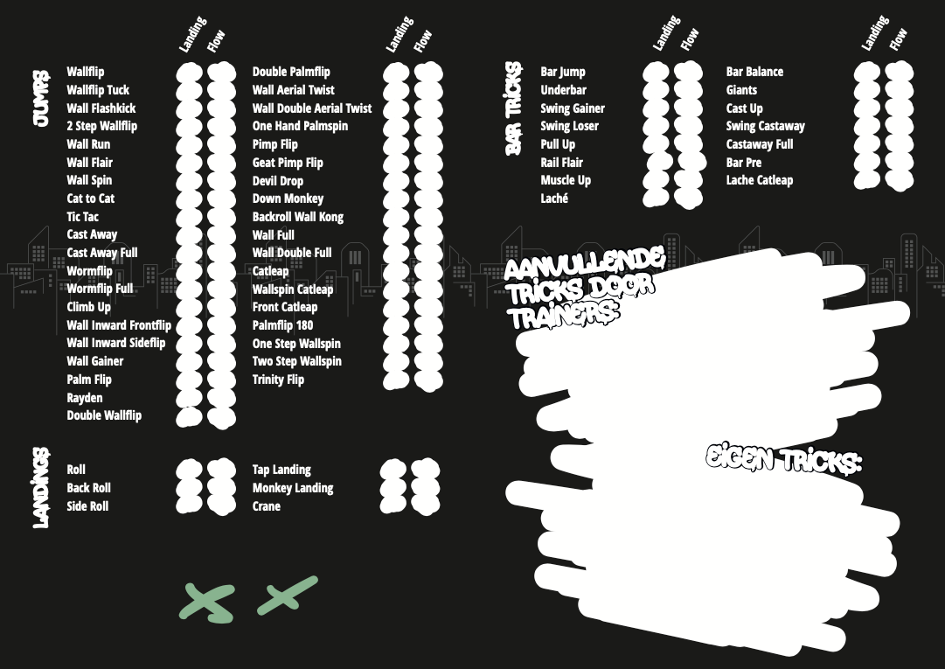 Level Up! your skills
Are you not done freerunning next to the Minded Motion classes? Then you can follow the online series of lessons within the community platform. Vaults, jumps, challenges, you can't come up with it without a tutorial. All kinds of tricks are explained step by step in these videos. From spots in your neighborhood to living room challenges. With almost 100 videos you will not soon stop learning!
Let's go Level up!
This platform is a nice addition to the Minded Motion freerun classes. This way you don't have to sit still in your free time and you can always keep learning. This way you will be a top freerunner in no time!
How do I register for this?
It's super simple! Go to https://mindedmotion.com/nl/levelup and press the button 'Register for free!'. Register as a member by entering your name, e-mail address and telephone number. When you have done this you can upload and unlock your tricks. Welcome to the family!